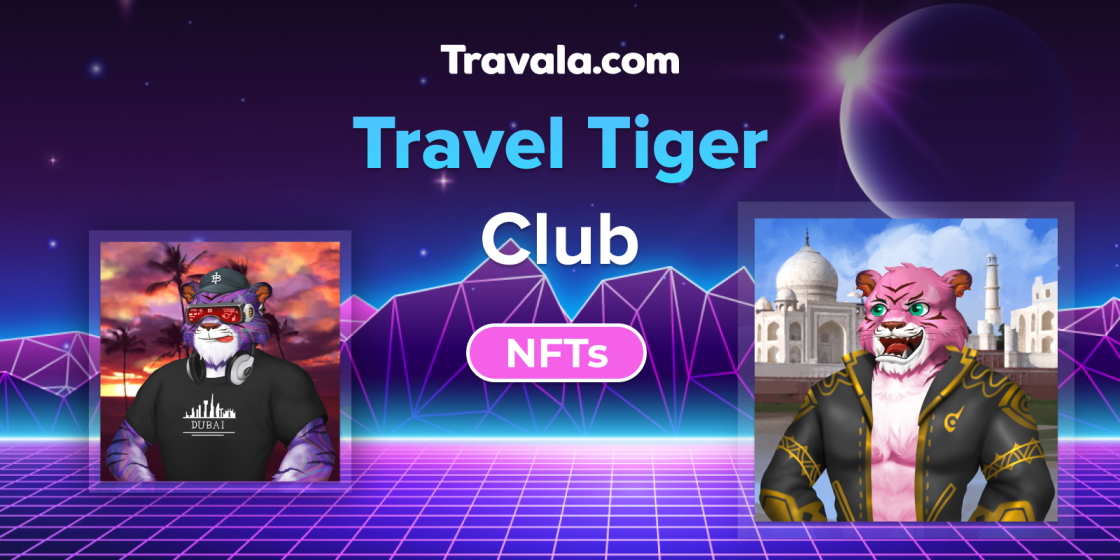 The Travel Tiger NFT will serve as the key to access the new Smart Diamond Tier
Smart Diamond members will be eligible to earn ambassador bonuses
900 Founders Edition NFTs sold exclusively to whitelisted Smart 5 members
Introducing the Travel Tigers
The "Travel Tigers" are a collection of 1,000 unique randomly generated NFTs, the first in the series to be released on the Ethereum Chain. Each NFT is unique and is the key to the new Smart Diamond Membership on Travala.com.
The Travel Tigers are nomadic travellers who roam the world to their heart's content, savouring the bountiful luxuries of rich cultures in every corner of the globe. From sunbathing on the Riviera to scaling Mount Everest, the Travel Tigers use the Earth as their personal playground, letting their instincts dictate their adventures. Private jets to secluded islands? Check. Palatial yachts in the Mediterranean? Naturally. Helicopters above the Andes? Only every other week. Collectively, the Travel Tiger entourage pushes the definition of 'bucket list' to its limits, leaving no stone unturned in their opulent escapades.
The Smart Diamond membership will be available to users that lock up 2,500 AVA and also connect their Travel Tiger NFT.
The Benefits
All Smart Diamond members will be eligible to earn Ambassador Bonuses—Travel Credit rewards that are available to claim every quarter by performing marketing tasks.
The Smart Diamond membership also provides members with the opportunity to receive travel drops. These travel prizes are drawn at random, which may range from luxury hotels to flight tickets and even private retreats.
In addition to the the Ambassador Bonus and travel drops, Smart Diamond members will also receive a range of other benefits, including:
Up to 10% loyalty rewards giveback paid in AVA
Up to 3% discount when paying in full with AVA
5,000 Governance Votes on proposals
Concierge.io access for bookings over US$20k
Proof of Travel NFT program
TRVL token airdrops
Access to exclusive community forums and both online and in-person events
The Travel Tiger NFT, along with locking 2,500 AVA, serves as the keys to activating the Smart Diamond status. The NFT can be bought and sold on the OpenSea NFT marketplace. Royalties will be collected from all secondary market trading of the Travel Tiger NFTs, of which 50% will go into the AVA Community Pool to fund community-driven initiatives.