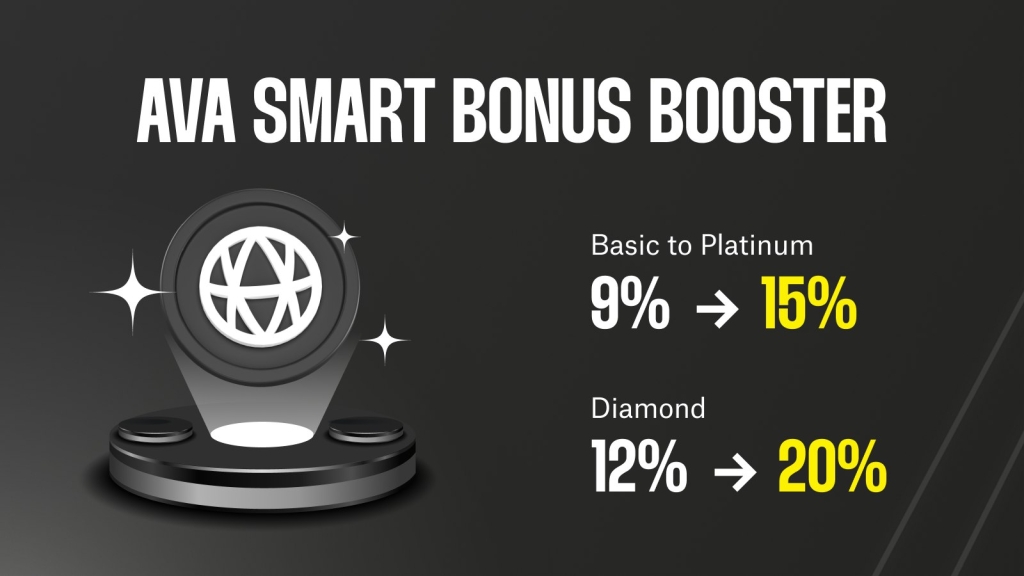 The AVA Foundation is pleased to announce that the AVA community has voted in favour of introducing the AVA Smart Bonus Booster, with an overwhelming majority of over 91% voting for Option B.
Smart members will now be able to receive an upsized annualised AVA bonus of up to 20% on their locked AVA amount with this initiative using funds from the Community Pool.
The boosted amounts for each tier are:
Smart Basic to Smart Platinum:

9% p.a. → 15% p.a.

Smart Diamond:

12% p.a. → 20% p.a.
The AVA Smart Bonus Booster will be effective for the current Q4 2023 period (claimable at the beginning of Q1 2024) as well as the Q1 2024 period (claimable in Q2 2024) and the Q2 2024 period (claimable in Q3 2024).
To receive the first AVA Smart Bonus at the boosted amount, users will need to have an active Smart membership by 31st December 2023 and:
Complete the specified Contributor Tasks in January 2024;

OR

Spend a minimum of US$50 worth of AVA on

Travala.com

in Q4 2023.
Remember, travel bookings made on Travala.com only contribute towards the minimum spend if your travel dates (not your booking date) fall within the relevant quarter. Travel Credit or Travel Gift Card purchases made on Travala.com also contribute to this requirement.
For more information about the qualification requirements and the AVA Smart Bonus, see this article.
About AVA Foundation
The AVA Foundation's overarching mission is to create a decentralised and self-sufficient blockchain-based loyalty ecosystem with AVA at its core. The AVA token functions as the key to accessing web3 loyalty programs and provides perks to end users, such as AVA payment discounts, AVA loyalty rewards, gated access benefits, and more. AVA tokenises the concept of loyalty reward programs using blockchain technology, bringing web3 to traditional loyalty models.